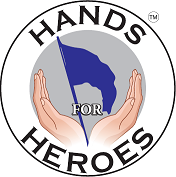 Anne Milewski of Sunrise Side Massage Therapy has joined with Hands for Heroes™ to provide therapeutic bodywork at no fee basis to our Veterans. Anne provides a predetermined number of bodywork sessions each month to help the Veteran in dealing with the stress encountered while on duty, as well as physical complaints common to our service men and woman.
Hands for Heroes™ is a nationwide organization of health care professionals who have donated their time and skills to provide therapeutic bodywork for our Nations Veterans.
Anne Milewski, as a Hands for Heroes Partner™, makes a significant contribution to the healing of our service men and women and their families. Hands for Heroes™ founders encourages you to support Anne in her therapeutic practice healing our returning service men and women.
You may contact Anne at Sunrise Side Massage Therapy at 1260 N Hubbard Lake Rd, Lincoln, MI 48742. Please call 989-312-5772 for an appointment.
To learn more about Hands for Heroes™ and their goal of providing 1 million massages across the nation, go to www.handsforheroes.net.